We lock our house doors when we leave.
We lock our car doors when we park.
We lock up our businesses when we close.
Why?
Simply, because we want to protect what's ours; we want to make sure that no one has access to our property that shouldn't. Makes sense, right?
So why are people so…well, let's not mince words, here – lazy!…when it comes to their passwords? Too many people use simple passwords, and worse, they reuse the same password across multiple sites, even banking sites!
Hacked passwords are the most common and easiest way for hackers to gain control of your identity and cause serious damage. It is therefore vital that you use strong passwords as well as use different passwords for all your sites, services, and applications
Of course, it can be rather tedious – and unmanageable! – to remember so many complex passwords; that's why it's important to use a good password manager.
I've been using 1Password for many years; here's what I like about it:
Only one password ("1Password"!) to unlock all of your credentials.
Strong encryption of all your data: even 1Password can't see your data, as your "1Password" is the key that decrypts your data.
Available across all platforms: Windows, macOS, iOS, Android.
Plugs in to all popular browsers.
Allows you to store all sorts of data: logins, credit cards, secure notes, identities (passports, driver's license info, etc.)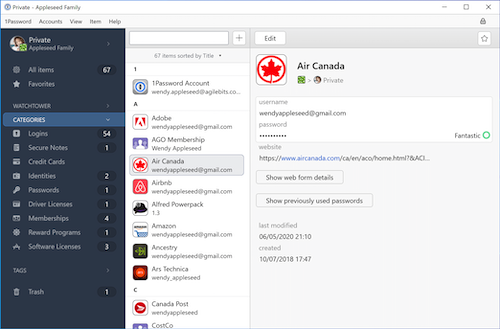 For people who travel and cross borders, you can set your vaults to "Travel Mode"; they are then removed from your devices. Once you've crossed the border, disable Travel Mode and all your vaults are back on your devices.Options to share data with family members or small business teams; there is also a "Business" version for larger companies.
Monitors your credentials and warns you if they've been compromised.
Handles two-factor authentication for sites that support this.
…and more!
With 1Password, it becomes absolutely simple and easy to secure all your credentials and protect your identities online.
Also, they're a Canadian company – a great success story!
To subscribe, simply click on the 1Password logo below: